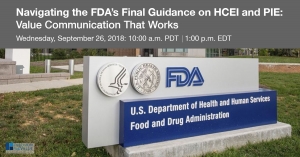 On Wednesday, September 26th at 10:00am PDT/1:00pm EDT please join us for a special, live webinar:
Navigating the FDA's Final Guidance on HCEI and PIE:
Value Communication That Works 
Presented by:
In June 2018, after a 21-year wait, the FDA released Final Guidance on communication with payers, formulary committees and similar entities. 
This essential guidance provides new opportunities and boundaries for pharma and device manufacturers seeking to engage payer decision makers in both a pre- and post-approval setting. Smart manufacturers will be able to get a jump on receiving more favorable value assessments from payers in this new environment.
Ami and Ross will share their perspective on the Final Guidance and practical implications for manufacturers in developing and disseminating healthcare economic information (HCEI) and pre-approval information exchange (PIE) as a means to enhance the use of clinical, economic and humanistic evidence to inform value assessment activities as well as improve transparency and believability by reimbursement decision-makers to optimize market access.
At the end of this webinar, attendees will: 
Understand the evolution of FDA Guidance on health care economic information (HCEI) and pre-approval information exchange (PIE)

Get exclusive insights from a survey of US payer decision makers on what elements of HCEI and PIE they most want to see

Grasp the key elements of the Final Guidance and the potential application to your pharma/device company

 

Realize (via a series of case studies) how to leverage economic evidence activities with pricing and market access work to enhance value development

 

Learn how to craft believable scenarios by knowing what decision makers value most
A live Q&A session with Ross and Ami will follow the presentation. 
Click HERE to sign up today for this free webinar.