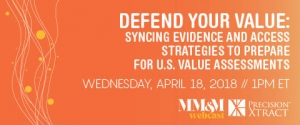 Register today for our upcoming free live webinar Defend Your Value: Syncing Evidence and Access Strategies to Prepare for US Value Assessments on Wednesday, April 18, at 1:00 pm ET. Hosted by MM&M magazine and moderated by editor-in-chief Marc Iskowitz, the webinar features actionable insights from Precision's Larry Blandford, PharmD, executive vice president and managing partner, and Ross Maclean, MD, senior vice president, head of medical affairs.
The push for value-based care has fueled a rise in value assessment activity in the United States. With the recent stated goal of ICER to evaluate all new treatments and growing payer awareness of value, syncing evidence strategy with pricing and market access activities will become a critical element to value demonstration and commercial success. Larry and Ross will share methods to enhance the use of clinical, economic, and humanistic evidence to inform external value assessment activities with the goal of improving transparency and believability by reimbursement decision makers to optimize market access.
After 45 minutes at this webinar, you will:
Understand how to prepare for an assessment by ICER and other third parties
Recognize how assessing evidence gaps and subsequent evidence generation can inform value assessments
Realize how to leverage economic evidence activities with pricing and market access work to enhance value development
Learn how to craft believable scenarios by knowing what decision makers value most
Understand response techniques once an ICER review is under way
Learn about preparing public responses and public hearing talking points
This webinar is designed to support anyone who can benefit from a better understanding of value assessments and how they can impact an innovative treatment's market access.
Register now to reserve your space!