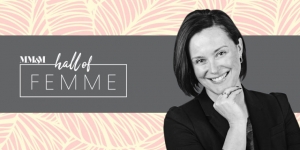 We are excited to share that Carolyn Morgan, president of Precisioneffect, will be inducted into the MM&M Hall of Femme. This program honors honor standout U.S. healthcare commercial executives who have made a significant impact on their organization's success in the past year. 
When asked how she'd advise young women starting their careers in health care, Carolyn's message is simple (and one she'd offer to young men as well). "If you want to be great at something you have to work hard for it. Nothing replaces the hard work. Sure, some things can make it easier, like the right contact or a lucky break, but nothing replaces truly owning and bettering your craft – ask for and embrace feedback, take on unexpected assignments, be uncomfortable.  There is nothing standing in your way – except yourself."
Read her interview with MM&M here.